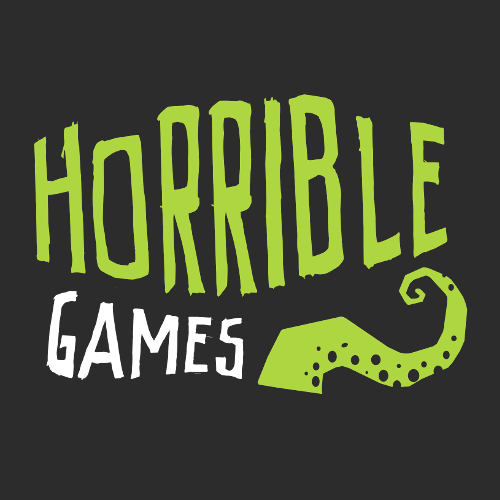 Today we continue our series of interviews to learn more about Italian publishers. In the playful scene there is a new promising publishing house, the Horrible Games, from an idea of Lorenzo Silva. Last year they published Potion Explosion, who has collected a huge success.

Hello Lorenzo, first of all we congratulate with you for the beautiful reality (we should say the Horrible reality) you have created.
Thank you, the compliments are always welcome, especially when they follow a hard work!
For your company it's very important to create an image that manages to be eye-catching and easily remain etched in people's mind. Where does the name and logo of the Horrible Games comes from?
The origin of the name is something as far as you can imagine from the games world. The idea actually comes from an old project of youth. With some friends I talked (more as a joke than anything else) about running a line of clothing for snowboarders sooner or later. Yes, I know … in our defence we were young, stupid and carefree! The line should have been called "Horrible Clothing" and have its own particular style, original and irreverent. Unsurprisingly, it never went beyond mere fantasies. But when I decided to leave Cranio Creations, which I had helped to create, and launch into a solitary enterprise, the name "Horrible Games" re-emerged almost immediately from the darkest recesses of my misbehaving teenager memory! Adding to this my passion for Lovecraft's works and the whole universe of the Cthulhu Mythos, I think the explanation of the name and logo will become rather obvious.
What is the motto or phrase that best describes Horrible Games?
Surprise and entertain in style.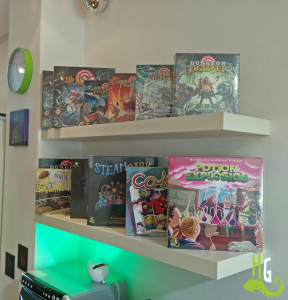 The Horrible Games is a young company but it's growing very fast. When was the idea of waging this adventure born and what is the goal you set when you thought of founding your own reality?

Actually it all started when we founded Cranio Creations with Lorenzo Tucci Sorrentino. The adventure started there. Horrible is just a new beginning page of this adventure, in order to try new editorial direction and focus on those aspects of the work of editor and creator of games that I find most congenial to me. The goal with Horrible is to devote exclusively to the creation, development and manufacture of games, in order to entrust them to the various distributors with whom, over the years, we created business partnerships. Making both the publisher and the distributor is a big job!
In recent times the world of board games is expanding more and more, due to a growing number of players and publishing houses. According to your experience, how did the Italian playful scene change in recent years?
As you say, there is a significant expansion in our sector, both in terms of number of players, and in terms of offer (of games, and game makers). This is a blessing but also a a curse. It indicates that the sector is in good health, but also that in recent years, with so many games to compete with, it has become more and more difficult to get noticed and stand out from the crowd. There was also a large increase in percentage of the "light" titles, aimed at families and / or board game newbies. And many of our titles belong to this category, among other things.
Horrible is specialized in creating original games. Which difficulties have you to face in order to get to the final product? Moreover, do you expect to propose an Italian edition of some foreign title in your future?
The creation of a game is a venture full of challenges. Since the most important part: finding the right idea! I have a drawer (or better anything else, a folder on my computer) full of ideas for new games, more or less advanced, which have been temporarily (or permanently) put aside. We do not throw away anything, because sometimes, even after many years, an old idea can suddenly mature and develop in a real game or, much more frequently as you might hope, abort in a very advanced state. I prefer to set aside an idea to find a better one rather than publish a game that I personally think it's just "ok", but that does not exalt me.

When you hold a "inished" game, from a design point of view, it takes over a whole new set of challenges: decide which components to use, choose the materials, find the best manufacturers with which to start stable partnership (this guarantees uniformity in the quality of your products), illustrations, graphics, editing … I could go on and on but it would be very boring. Producing games is not always the fun you might imagine from the outside!

As for the future, we are starting publishing new games by authors external to our team: the first example is our next game, Raise Your Goblets, by Tim Page. Raise Your Goblets is also the first game in which we will use plastic components (will feature six silver goblets and a lot of drops of wine / antidote / poison in transparent plastic); in some ways we had to start from scratch because we had never worked with plastic before, but now that we have found a reliable partner for this kind of components, I think we will go on using them in the future if a project should require it. Do someone say "miniatures"? 🙂


As for the localization of foreign games, no, it is not in our plans. Horrible Games is a pure publisher, for now the plan is to publish only unreleased games.

The quality of your publications can sense the passion that you put into your work. Which is your relationship with games beyond your job?
Before being an author and publisher of games, I've been a player in my turn! Even as a child I was a big fan of Talisman, then I moved away from board game world for several years. During university I started working as a salesman for a small shop of games in downtown Milan, and love has reborn. Twilight Imperium, Warrior Knights, Princes of Florence … since then I have not stopped (even for business needs of course, we must keep abreast of new releases to feel the pulse of the market). With our group of friends / tester more or less we meet once a week in order to play just for the fun of it, as well as to test our prototypes of course.
Which is the game with which you are closest to and why?
I can not choose between my children, I love them all! If I have to make a selection, I would say Horse Fever, because it is the first. Dungeon Fighter, because it marked the turning point, the moment when things started to go really well. And CoMix, because it was the first "solo" project.
In the Italian and international fun scene, there are many Game Designer of value. Whom would you prefer to work with on your next project?
Truly, in one of our next projects, Alone, our first dungeon crawler, I'm already working with Andrea Crespi, former author of 1969 and Apollo XIII, and co-author of Potion Explosion with me and Stephen Castles. I often worked in tandem, all you need is the right idea that passionate all minds involved. I have a great relationship with many Italian authors, we know each other well and there is a great atmosphere of respect, collaboration and support. Daniele Tascini, Simone Luciani, Walter Obert, Carlo Emanuele Lanzavecchia, Paolo Mori, Andrea Chiarvesio, Gabriele Mari, Christian Zoli, Bellini Luca, Luca Stock Exchange, Spartacus Albertarelli, Martino Waffles, Guido Albini … oh my god they are a lot and I'm leaving out a lot!!! They are all people I'd like to work with, not mentioning that large group of "unpublished" authors attending events as IDEAG, among which there are some very bright minds! I must say that I have a lot of confidence in the Italian recreational landscape, and in the next few years I'm sure we'll get more and more international results.
If you look around, however, which, apart from Horrible Games, is your favorite game?
At the time we fixed for Cyclades with my group of friends … we have created such a competitive level that a victory lets bully for at least a month. This does not mean it's my favorite game ever … it is impossible to confine myself to a title. I'll shoot in bursts a few, totally in random order: Intrigue, Diplomacy, Smallworld, The houses of madness, Lift It! ,, Abyss, The travels of Marco Polo, Last Night on Earth, Pandemic Legacy, Ticket to Ride, El Grande , Dixit, Shadows Over Camelot, Agricola, Blood Bowl Blood Rage, Splendor, Memoir 44, for Sale, Love Letter, Britannia, Letters from Whitechapel … I might go on and on, and I'm sure I've forgotten something.
Often it is hard to predict the success of a game because the players' tastes are difficult to interpret and change very quickly. Which was the game you thought had the potential to be the best seller and instead din not gain an adequate response from the market?
I would not speak of "inadequate response", because in any case the sales were good, but I would probably say Co-Mix. He always got great feedback from critics, as well as sales, but unfortunately it is a kind of game whose enjoyment is strongly depends on the type of players sitting at the table: if you have the right group, it is one of the most funny and challenging experience you may have. But despite all my efforts to make it attractive for those who are less prone to the creation of stories, or those who do not have what it takes to captivate the audience in the description, for some people it is a real difficult experience. The game gets exhausting instead of funny. It's a great title, but niche.
Since its presentation in Essen and Lucca Comics, it was clear that a huge success was expecting Potion Explosion and, in our opinion, it deserved the nomination to the Spiel des Jahres. What can you tell us about this success?
It makes me very proud! Frankly, we had a little hope at least to appear in the list of the recommendations of the Spiel des Jahres (and we were not alone, as somebody refers). Potion Explosion is a game with the "wow" factor that we always try to give to our games and this was clear almost immediately during development. We collected mostly excited opinions since the playtest with the first horrible prototypes, when the dispenser of marbles did not yet exist and we filled hand those four slides assembled with cardboard, glue and lots of love. Exit the market, fortunately, the results have met, if not exceeded, our expectations.
The American market is certainly very important for a publishing company that wants to grow and broaden their perspectives. Which are the projects of the Horrible Games for the overseas market? Which will be your rush playing game and which label will be on the box for the distribution?
Potion Explosion will come out soon in the US, distributed by Cool Mini or Not! We are very happy for this partnership. Honestly, our games have already arrived overseas. Dungeon Fighter and Steam Park have been distributed for several years by Iello while CoMix is distributed by Ares (and is also nominated for the Origins Awards among the best family games, whose final results are expected in these days. We keep our fingers crossed but competition is evry hard! Moreover, almost all of our titles have Chinese editions, Korean, Japanese and Brazilian. The conquest of the world proceeds on schedule!;)
Generally Essen and Lucca are the fairs in which most of the innovations are presented. What bubbles in the pot of Horrible Games?
Well, as I said, our new exit for Essen is Raise Your Goblets, a party game for 2-12 players where you have to try to poison the glass of one of the other invited to this grand banquet in honor of the king being aware … that someone else at the table is trying to do the same with you! In addition, we are in the last stages of development and / or pre-production even with two expansions: one is The Fifth Ingredient, the first expansion of Potion Explosion always developed with Andrea Crespi and Stefano Castelli. Apart from the obvious addition of new potions, we have introduced some new mechanical: the jolly marbles, and Professors. The first is pretty self-explanatory, I think. The wildcard marbles create new interesting gameplay … and explosion of gargantuan proportions, of course! The Professors instead go to scramble the cards on the table, creating even in this case very interesting situations. One ot them is selected randomly at the beginning of each game, and some of the game rule are modified, for all players, throughout the course of the game. One of the Professors for example punishes you (ie, you do get new markers called malus "scolded") if you drop the balls on the table while the handle. Another one requires you to fill in the holes of your potions from the bottom upwards. Some, however, are less severe, and award you if you make very large explosion, or if you have a warehouse full, and so on.


The other expansion is for Steam Park; I developed it together with Federico Latin and is called "Play Dirty". It will add the possibility to play in 5 to the base game (something required loudly from the exit of Steam Park), as well as will introduce in this case a series of new mechanical. It is a modular expansion, so you can choose to play with only one, some or even all of the new rules contained at your convenience. New rides, new stalls, new visitors, new blacks nuts, called "nuts Espionage", which will let you "copy" the actions of your opponents and have extra actions … there is a lot of irons in the fire. We have perhaps another little surprise in the pocket, again for Steam Park, but we prefer to announce it when we're sure whether we can release it in time for Essen or not.

And which are your plans for 2017?
Ah, future is very fluid! We have a lot of projects at stake, but the choice of which will be selected for output in 2017 and which will slip below is still all in the making process. We have already mentioned Alone; a kind of stand-alone expansion for Co-Mix themed manga; a quick and fun card game Zombie theme developed by Guido Albini; another game developed by me called The Map; a new expansion for Dungeon Fighter with mechanical totally new … something will come out of it definitely in 2017, but we prefer not to announce specific dates for the time being, there are still too many variables involved.
To close … if you were a Dwarf, wich one would you like to be?
Many friends of mine would tell you that I am already a dwarf, but do not listen to them. My height is quite average.
No, really.
You do not need to pull out the tape measure.
"Come down from the step"?
Which step?
Ah this?
I had not noticed … uh, sorry.

As a big fan of Tolkien, I can only answer Gimli. Although thinking back to some of the Tyrion "preferred activities", from A Song of Ice and Fire, maybe I would have some doubts…
Lorenzo we thank you again for your time and congratulate you for the excellent work done so far!
Good luck for future projects … and we hope it will come soon the expasion of Potion Explosion
Svik
If you want to be updated about our articles and reviews, click "Like" on our Facebook page, add our Google+ contact, our Twitter account or our Instagram account.